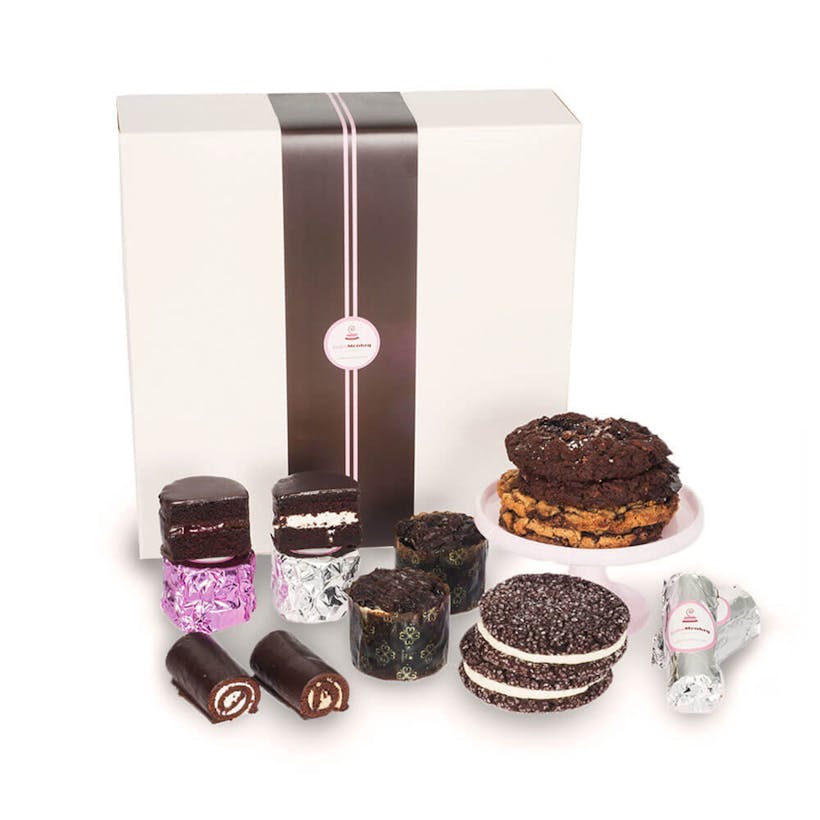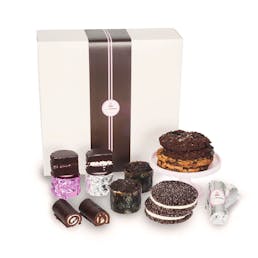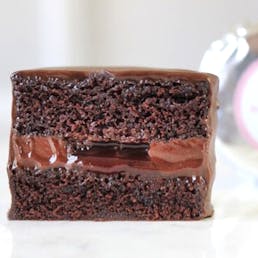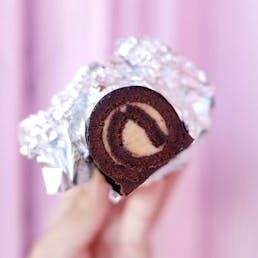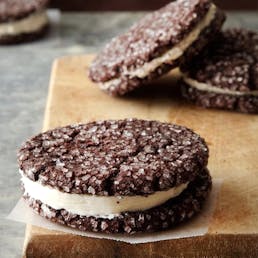 Must Love Chocolate Gift Box
The whimsical bakers at LA's Cake Monkey are reinventing our favorite childhood treats and making them even better than we ever imagined. From chocolate creme sandwich cookies to toaster-friendly tarts, these glam'd up goodies are insanely satisfying, right down to their familiar foil wrappers. This sampler is the best way to get a taste of all our treats!
More Details
Each package includes an assortment of 16 chocolate treats in a beautiful gift box:
2 Black & White Cakewiches – Moist chocolate cake loaded with vanilla cream studded with Valrhona crunchy pearls then generously coated in rich bittersweet chocolate
2 Chocolate Strawberry Cakewiches (Gluten Free) – Chocolate Gluten Free Cake Sandwich filled with Housemade Strawberry Preserves & Chocolate Buttercream, coated in Bittersweet Chocolate
2 El Rollos – Moist chocolate cake is rolled up with a fluffy vanilla cream then coated in rich bittersweet chocolate
2 Peanut Butter El Rollos – Chocolate Cake rolled up with Housemade Peanut Buttercream, coated in Chocolate
2 Big O Cookies – Your favorite childhood cookie, only better!
2 'Nuff Said Cookies – Chocolate Crumble Cookie with Marshmallow, Dark Chocolate, Pecans, Cocoa Krispies, Fleur de Sel
2 Summer Camp Chocolate Chip Cookies – Gooey, Chewy & Krispie made with Carmelized Rice Krispies, Marshmallow & Dark Chocolate
2 Chocolate Cake Puddings – Chocolate Cake soaked in Chocolate Custard with Salted Caramel, Chocolate and Marshmallows – the ultimate treat!
Instructions / Storage
Treats arrive ready to enjoy!
Shipping Details
Items are prepared fresh and shipped directly from the shop
Cake Monkey ships Monday-Wednesday of each week.
Orders cannot be shipped to P.O. Boxes.
Orders shipped to Alaska and Hawaii via 2-day will incur an additional $20 charge or $35 for Overnight Shipping. Sorry guys!
Have more questions about Shipping? Read our Shipping FAQ page.